Male Hair Loss Treatment Procedure - Dr. Anil Shah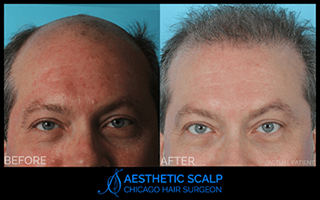 While hair thinning and loss don't only affect men, baldness is most common among the male population. According to many studies, two-thirds of men will experience some degree of hair loss by the time they're 35. This percentage only grows with age, with approximately 85% of men reaching more extreme levels of hair loss after the age of 50. Roughly 95% of men living with hair loss can attribute their condition to hereditary male pattern baldness, also known as androgenic alopecia, which most commonly impacts the hairline and the crown (located towards the back of the skull).
Even though the exact cause of androgenic alopecia is unknown, research has shown a connection between male pattern baldness and having a genetic predisposition to DHT (dihydrotestosterone), a testosterone derivative that can be present in men. DHT is known to reduce the size of hair follicles, which can weaken the affected hair, making it vulnerable to falling out. At Aesthetic Scalp in Chicago, our board-certified team of doctors employ a wide range of innovative techniques to help men conquer hair loss. Drs. Anil Shah and Sameea Chughtai are highly knowledgeable specialists who are always more than happy to provide patients with the information they need about hair loss. Contact our premier office to learn more about your condition and treatment options.
SIGNS OF MALE PATTERN BALDNESS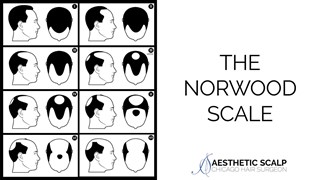 In some cases, male-pattern baldness can be easily recognized. Some indications include the appearance of the hair and where thinning occurs throughout the scalp. A few notable signs that may indicate that you're experiencing the early phases of hair loss include:
A change in your hairline
Patchy areas of baldness
Gradual hair thinning on top of the scalp
Hair loss throughout the body
Hair becoming looser
Larger clumps of hair coming out while brushing or showering
AM I A CANDIDATE FOR TREATMENT?
Aesthetic Scalp in Chicago offers hair restoration consultations for people who are currently dealing with any degree of thinning or loss. Drs. Shah and Chughtai will meet with you in one of our private rooms, where you can discuss your concerns and goals freely and confidentially. We will assess your family history, personal medical past, and any medications you're currently taking. We may also discuss your lifestyle habits, such as your diet and exercise routine. Once this is complete, one of our doctors will thoroughly assess your scalp to evaluate your condition and design a personalized treatment plan that meets your goals and suits your unique situation.
What is Trichoscopy? - Dr. Anil Shah
TREATMENT OPTIONS FOR HAIR LOSS
Depending on the specific cause of your hair loss and its severity, we may offer a nonsurgical solution, such as low-level light therapy, PRP treatment, or exosomes therapy. In many cases, men who are starting to bald benefit the most from a surgical hair restoration solution. At our Chicago practice, we perform surgical hair restoration using the advanced ARTAS system. FUE (follicular unit extraction) with the ARTAS is almost always paired with PRP therapy or another regenerative service to further encourage improved hair retainment and improve the thickness of the hair. Dr. Shah may also perform a forehead reduction surgery if you are bothered by the height of your hairline and would like to lower it. To determine your ideal treatment plan, one of our board-certified doctors will speak with you in great length about your goals and assess the condition of your scalp, your degree of baldness, and the root cause of your hair loss.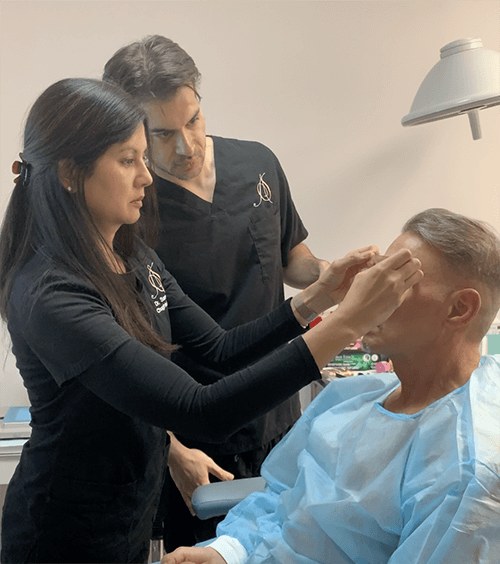 Male Hair Loss PRP Procedure - Dr. Anil Shah
FOR MORE INFO ON MALE PATTERN HAIR LOSS
Male pattern hair loss is an incredibly common condition that affects many men as young as in their 20s or 30s and only progresses with age. Even though this issue can plague the confidence of so many, there is a range of treatment options available to improve the quantity and quality of your hair. Our board-certified team, Drs. Anil Shah and Sameea Chughtai, offer many diverse services, including surgical hair restoration, regenerative techniques, and medications. Reach out to our Chicago team to schedule your hair loss consultation or to learn more about male pattern baldness and your options.
Related Procedures
Related Posts