Understanding Regenerative Medicine For Hair Restoration - Dr. Anil Shah
About Hair Growth Medications
Hair loss is a widespread concern across many ages and demographics, and there are a number of solutions that could help slow, stop, or even reverse the process if the signs are caught early. Typically, oral and topical medication can be used to combat early-stage hair loss. At Aesthetic Scalp in Chicago, our board-certified surgeons are pleased to offer patients access to beneficial medical solutions. During your confidential appointment with Dr. Anil Shah or Dr. Sameea Chughtai, they will assess the condition of your scalp, determine your degree of hair loss, learn about the cause of your thinning or balding, and work with you to determine which hair growth medication could work best for you. Hair loss medication can also be paired with other services to help encourage follicle strengthening and produce comprehensive results.
To learn whether you're a good candidate for hair growth medication, you'll first need to attend a consultation with one of our board-certified doctors. Selecting the right solution is extremely important since some medications are better suited to people of certain genders, hair types, and reasons for hair loss. At your appointment, we'll ask about your medical past and family history, as well as what other medications you may be taking, to determine which product is best for you. In many cases, the best candidates for hair growth medications are those who are in the earlier stages of hair loss.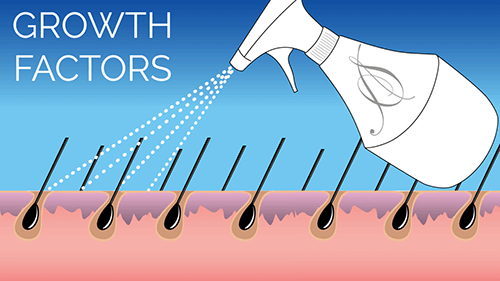 HAIR GROWTH medications we offer
At Aesthetic Scalp, we offer a range of hair-growth medications that can be taken orally or applied to the scalp topically. The medication that works best for you depends on your gender, hair type, medical history, and other factors. Some of the solutions we offer include:
Minoxidil is a topical medication that stimulates hair growth for male pattern baldness. It is not used to treat a receding hairline or balding on the front of the scalp for men.
Finasteride is an oral medication that addresses hair loss in men. The drug has shown to be ineffective for women, so only men are prescribed this medication.
Dutasteride is can treat enlarged prostates and has an off-label use as a medication to prevent hair loss. Like finasteride, this oral drug is not prescribed to women as it is ineffective for them.
Viviscal Professional is a commonly suggested hair growth supplement that is readily available from dermatologists and other practices. The supplement will not grow new hair, but it can strengthen existing hair follicles and promote stronger, healthier hair.
Customized formulas may also be offered by our doctors and created at compounding pharmacies to be applied topically to the scalp and address your unique case of hair loss. These include formula 82F, formula 82S, and formula 82M.
When you are prescribed a hair growth medication, it's important to take or use the product as directed by our board-certified doctors. Drs. Shah and Chughtai will work closely with you over the coming months to ensure that the medication works as it should. We may adjust your dosage as needed, depending on how the medications work. In many cases, we can offer hair growth drugs alongside other services, including PRP therapy, FUE (follicular unit extraction), and others. If you notice any unusual or worrying side effects, we encourage you to get in touch with our Chicago office as soon as you can.
EASY AND ACCESSIBLE RESTORATIVE OPTIONS
If you've noticed thinning hair or bald spots throughout your scalp but aren't ready to have hair restoration surgery (such as FUE), then oral or topical medications could provide some relief. Aesthetic Scalp in Chicago is proud to offer patients access to a range of advanced drugs that can slow, stop, or sometimes even reverse hair loss and strengthen hair follicles in the process. Call our office and schedule your appointment with Drs. Shah or Chughtai to learn more.
Related Procedures
Related Posts