Brow Restoration Testimonial - Dr. Anil Shah and Dr. Sameea Chughtai
About Eyebrow Transplants
With recent beauty trends now centering around the eyebrows, eyebrow transplant surgery has grown in prominence and popularity in recent years. The eyebrows serve just as many aesthetic functions as they do practical, like shielding your eyes from moisture, creating expressions, and helping to accentuate individuality. A person's eyebrows can impact their overall physical appearance, and, when styled nicely, they can look very pleasing. If penciling in your eyebrows each day or having to get microblading touch-ups isn't the path you want to take to achieve a better, fuller brow, consider eyebrow transplant surgery at Aesthetic Scalp. At our Chicago office, our board-certified doctors offer this treatment, along with many others, to help patients realize their hair goals. Schedule your consultation with Dr. Anil Shah or Dr. Sameea Chughtai today!

Eyebrow Arch Position Methods
Anyone who has thinning, balding, or very little eyebrow hair could be a candidate for eyebrow transplant surgery as long as they are in good overall health and don't have any underlying health conditions. Some problems that may cause eyebrow hair loss include alopecia areata, certain thyroid disorders, or trichotillomania. Individuals who have had eyebrow tattooing (called microblading) in the past can still qualify to receive an eyebrow transplant surgery.
The first step to eyebrow transplant surgery is to map out the ideal eyebrow shape that suits your face, which our highly trained cosmetic team expertly calculates. At Aesthetic Scalp, Drs. Shah and Chughtai perform precise eyebrow transplant surgery utilizing a follicular unit extraction (FUE) technique. Once we've mapped out your eyebrow shape, we'll extract the number of hairs needed for your transplant (which is typically around 100 – 300 per eyebrow depending on your facial features, hair attributes, degree of hair loss, and eyebrow shape) to produce a complete, full look.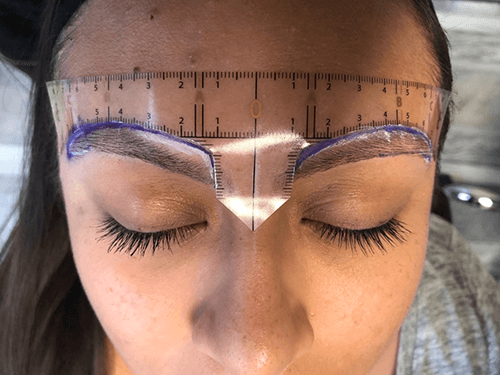 Mapping Ideal Brow Shape for Transplant Procedure
After an eyebrow transplant, it's important for patients to adhere to their post-op instructions to ensure that their recovery is effective and their hair transplant successful. Tiny scabs may show up a couple of days after your procedure, along with some redness, bruising, or swelling, but this will go away with time. The small scabs will go away after around seven days, and the transplanted hairs will fall out roughly 2 – 3 weeks post-op as the follicles underneath make way for new, stronger hairs.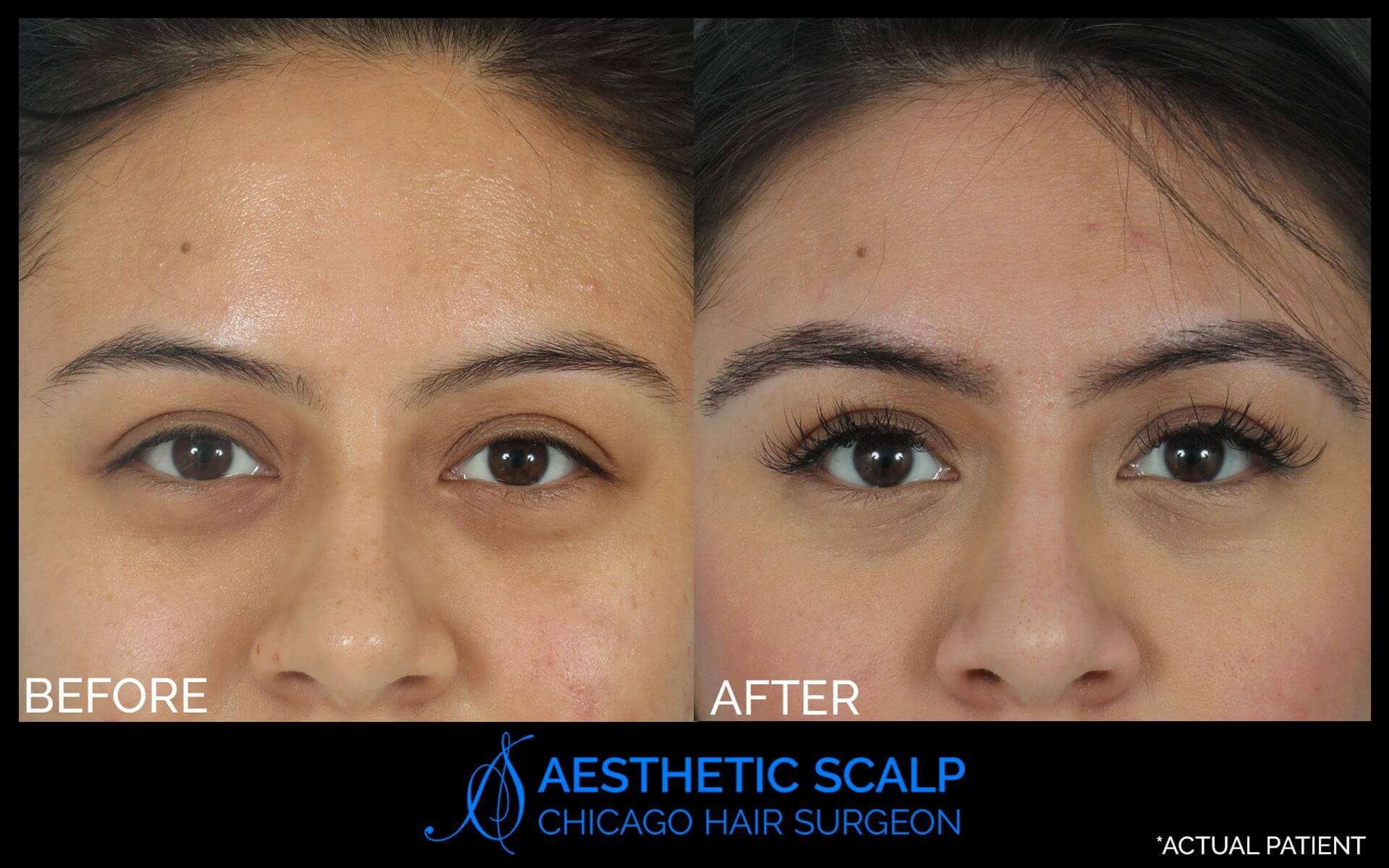 Eyebrow Transplant - Before and After
Hair loss can occur anywhere throughout the body, even the eyebrows. However, patients without eyebrow balding or thinning could still benefit from this excellent treatment. Attending a one-on-one consultation with Dr. Shah or Dr. Chughtai could help our team at Aesthetic Scalp determine the best course of action to improve the look of your brows. Reach out to our Chicago office to learn more about your eyebrow transplant options.
Related Procedures
Related Posts