FUE Procedure - Dr. Anil Shah
WHAT IS FOLLICULAR UNIT EXTRACTION?
Even though losing and regrowing hair is a natural part of life, some individuals can experience significant hair loss either due to genetics, stress, hormonal changes, or other lifestyle habits. Whether you're an older gentleman in your 60s or a young woman in your 20s, you could experience thinning or balding for any number of reasons. To preserve the integrity of your scalp and the look of a full head of hair, our team at Aesthetic Scalp is thrilled to perform a hair transplant surgery technique known as follicular unit extraction (FUE) with the ARTAS® Robotic Hair Transplant system. This approach has gained immense popularity in recent years due to its more accurate and less uncomfortable use of special instruments that can target an individual hair follicle instead of an entire strip of hair, as is done in traditional FUT (follicular unit transplant) surgery.
During FUE, the process of extracting hair follicles is done individually until enough hair has been acquired to complete the restoration. At our Chicago, IL office, double board-certified facial plastic surgeon Dr. Anil Shah and board-certified physician Dr. Sameea Chughtai utilize the ARTAS, which incorporates robotic technology to increase the precision and efficiency of your treatment. We also combine each FUE procedure with a regenerative technique, such as PRP therapy, to further encourage long-term hair growth and help you achieve comprehensive outcomes. Contact our office to schedule your one-on-one with Dr. Shah or Dr. Chughtai to learn more about all of the options you have to restore your hairline and feel like you again.

ARTAS FUE Hair Transplant
FUE with the ARTAS technology can be performed for men and women of various ages and hair types. This technique can be done for patients who are at an advanced stage of baldness or those who would like to improve the appearance of their hairline and add depth to thinning areas of their scalp. Even those who have short hair and busy lives can qualify for this procedure, as the healing time is fairly quick. To learn if you're a good candidate for follicular unit extraction or a minimally invasive treatment, we invite you to attend a consultation with one of our board-certified doctors. Once we have assessed the condition of your scalp and determined the cause and extent of your hair loss, we will work with you to develop a customized treatment plan.
Follicular unit extraction at our office is done using the ARTAS Robotic Hair Restoration system, which is currently the only hair restoration robot in the world. The procedure typically takes as long as a full working day, so we encourage you to eat a full breakfast, but a lunch menu will also be provided to you around midday. We also advise patients to dress comfortably since the treatment takes nearly a full day to complete. However, the exact duration of your procedure will also depend on the amount of hair being extracted and reinstated. During your operation, our board-certified doctors will utilize a local anesthetic to the treated area and provide you with oral medication as needed. Typically, the donor region is located on the back portion of the scalp, since this is the place where hair growth is continuous in most people. The specific approach utilized throughout your treatment will depend on the amount of hair loss you have, where hair thinning exists, and your hair type. For example, performing FUE is vastly different across the board for Asian, African, and Caucasian patients.
Prepping the Donor Area for FUE Procedure - Dr. Anil Shah
FUE Procedure - Dr. Anil Shah
FUE is minimally invasive, so stitches won't be needed following your treatment, and many patients report experiencing only little or mild discomfort. The majority of individuals can return to their normal routines after a couple of days. Following your procedure, a member of our team will provide you with specific after-care instructions to help you as you recover. It will be very important to follow these tips while you heal to ensure the smoothest recovery and best post-treatment hair growth. You may notice some scabbing immediately after your treatment, but these scabs are tiny and will flake off naturally after several days. Two weeks after your treatment, the new hair follicles will enter a resting phase that will last for around a month, after which the hair will fall out to make room for your new, natural hair.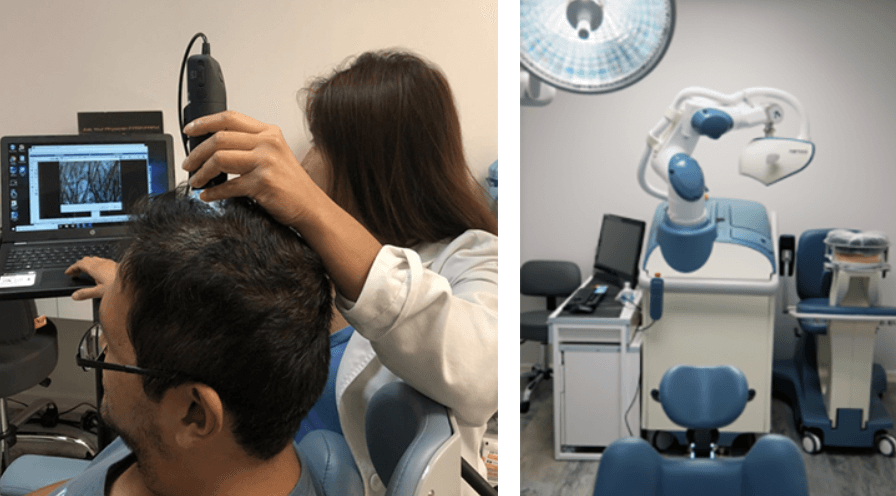 ACHIEVE A FULLER, MORE ATTRACTIVE HEAD OF HAIR
You don't have to live with or tolerate hair loss, regardless of your age, gender, or ethnic background. At Aesthetic Scalp in Chicago, IL, our compassionate team of hair restoration experts work with patients one-on-one to develop a fully customized treatment plan to restore the look of their hairline and the fullness of their scalp. Reach out to our esteemed office today to schedule your consultation with Dr. Shah or Dr. Chughtai and receive the highest quality of hair restoration care available.
Related Procedures
Related Posts