Lebron James is one of the biggest stars on the planet. Arguably the greatest basketball player of all time Lebron has also become: a media mogul, philanthropist, and now Hollywood star. His recent move to Los Angeles, home to his new team the Lakers, solidified his star power and his eventual career after basketball. Lebron James has truly redefined what it means to be an athlete in the 21st century. His off the court work has always been criticized, but on the court, there is no doubt Lebron James has more than lived up to his pre-NBA title "The Chosen One"
Known for his insane workout routines and diets, he is nothing less than a physical specimen. That being said, he has struggled with one aspect of his image; You guessed it, His hair!
During his time in Miami he started to wear a hand band to cover a receding hairline. The headband eventually kept moving upwards to hide his hairline. After the headband phase came a couple years of what looks like failed hair transplants. Throughout this time his hair looked better on some days, and worse on others.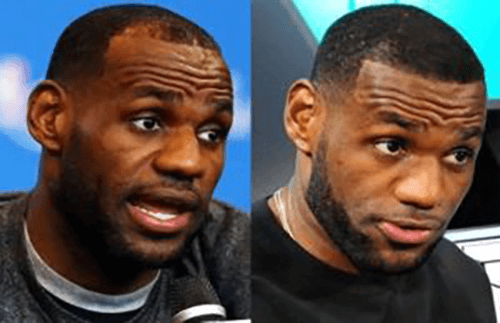 Source: theidleman.com/blogs/grooming/lebron-james-hair-loss-treatment
Recently, Lebron posted a video on Twitter of him and his barber. His hair appears to be thick, and perfectly lined up!
Haircut got Bron feeling himself

(via @KingJames) pic.twitter.com/uD070ra3U5

— Bleacher Report (@BleacherReport) June 18, 2019
What has Lebron James done to give off the full head of hair impression? We don't know for certain, but we can guess!
There's one thing we do know, and that is that he has had a strip surgery on the side of his head. Several photographs indicate Lebron has had this surgery done (possibly more than once). Strip surgeries are really outdated, costly, and ultimately don't heal the way any patient wants a linear scar to heal.
He also could've had Scalp micro-pigmentation, which is one of the most effective ways to combat balding. Scalp pigmentation replicates tiny hair follicles with the use of needles and the right colored pigmentation for your hair.
Why is Lebron James focusing on his hair?
Lebron has publicly stated his hair is one of the most important features about him. Being as successful as Lebron it must be challenging to face hundreds upon hundreds of lights and cameras while you are self conscious about the top of your head. This common confidence issue makes it easier for us slightly less famous people, a reminder that this is something we all go through. Men of Lebron's fame and fortune, Are some of the most successful people in the world and still worry about hair.
Message to the rest of us: If you are going to have your hair done, you should have it done right the first time! Instead of having a scar on the back of your head why not choose a procedure that will be unrecognizable, and a lot more accurate.
Having a hair restoration procedure with ARTAS not only looks better, but it also feels better! Patients have exclaimed how painless the procedure was.