Genetic Hair Loss - Dr. Anil Shah
WHAT IS GENETIC HAIR LOSS?
Often called androgenic alopecia in medical contexts, genetic hair loss is the most common cause of hair loss among both men and women. While it's not a specific condition itself, a combination of genetic factors can lead to what is known as hereditary-pattern baldness, which can noticeably affect up to 40% of adults. Hereditary-pattern hair loss can be especially concerning because, for some (especially men), the end result is typically full baldness. Thankfully, modern medicine has advanced to the point of being able to offer people a wide range of effective treatment options that produce natural-looking results.
At Aesthetic Scalp, our team of hair restoration specialists use the most advanced technology and techniques in the field to help individuals regain their confidence, as well as the quantity and quality of their hair. Both of our doctors have a high level of compassion for our patients since they dealt with their own hair loss struggles in the past. Double board-certified facial plastic surgeon Dr. Anil Shah and board-certified physician Dr. Sameea Chughtai are pleased to see women and men of all ages to identify the underlying cause of their hair thinning. Contact our team in Chicago at your earliest convenience and learn about your options for hair restoration.
WHAT ARE THE SIGNS OF GENETIC HAIR LOSS?
Hereditary-pattern hair loss presents differently among men and women. Many men will begin to notice their hair thinning or falling out in their 20s and 30s, while women may not notice a change to their hairline until after menopause. The location of hair loss also varies between men and women. Typically, men with androgenic alopecia may notice hair loss or thinning at the temples and crown, which progresses until only the lower strip of hair is left. Meanwhile, hair loss for women tends to spread wider throughout the scalp but is often concealed better than male-pattern baldness. Unlike men, women suffering from genetic hair loss won't usually notice a change in their hairline. Women who have a complete absence of hair at any location throughout the head may be experiencing a different issue altogether, like alopecia areata.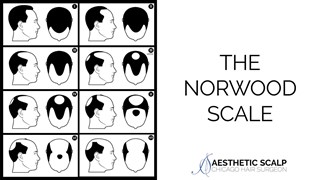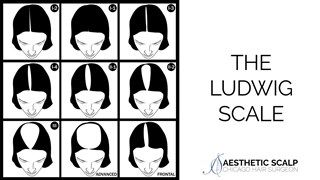 DIAGNOSIS OF HEREDITARY-PATTERN HAIR LOSS
To diagnose genetic hair loss, you will meet with one of our board-certified doctors who will assess the condition of your scalp, the quantity of hair lost, and the quality of the remaining hair. During your consultation, we will also ask about your medical history and any medications you may be taking to rule out illness or prescription drugs as a cause of your hair loss. Oftentimes, hereditary-pattern is quickly diagnosable through a physical examination and an overview of your medical and family histories.
Male Hair Loss Treatment Procedure - Dr. Anil Shah
METHODS FOR PREVENTION AND TREATMENT
Even though genetic hair loss affects a large portion of the population and can cause adults of a variety of ages to lose their confidence and feel frustrated, there are a number of treatment options available to improve your situation. Patients whose conditions are diagnosed early may receive preventive care in the form of oral or topical medication, such as minoxidil or finasteride. While finasteride is taken orally and is often exclusively for men, minoxidil is a topical solution that is applied to the scalp and can work for both women and men.
Patients whose conditions are too far progressed for preventive measures may instead benefit from a range of other treatments we offer, including:
Surgical hair restoration, or FUE (follicular unit extraction)
Forehead reduction
PRP therapy
Low-level light therapy
Exosomes therapy
At our Chicago, IL office, we typically offer FUE alongside a regenerative treatment (such as PRP therapy) and use the ARTAS® Robotic Hair Transplant system. To craft your personalized treatment plan, you will meet with one of our board-certified hair specialists who will assess the state of your scalp and your degree of hair loss. From there, we will go over all of your options with you in detail.
Male Hair Loss Treatment Procedure - Dr. Anil Shah
YOU HAVE QUESTIONS, WE HAVE ANSWERS
Our Chicago practice helps thousands of patients suffering from hair loss every year with an advanced range of surgical and nonsurgical treatments. To address genetic hair loss in both men and women, patients will attend a consultation with one of our highly trained doctors at Aesthetic Scalp. If you've noticed some early signs of hereditary-pattern baldness, including hair thinning or patches of hair loss, contact our office and schedule an appointment to meet with Dr. Anil Shah or Dr. Sameea Chungtai.
Related Procedures
Related Posts