Exosomes Therapy Procedure - Dr. Anil Shah and Dr. Sameea Chughtai
WHAT IS EXOSOMES THERAPY?
Our team at Aesthetic Scalp makes it a point to stay on top of the latest medical trends and innovations, and we regularly incorporate new and proven techniques into treatment plans at our esteemed center for hair restoration. One of these new and traction-gaining approaches is exosomes therapy, an alternative to PRP that doesn't require blood drawn from the patient. Exosomes are vesicles that communicate information back and forth between other cells and instruct cells on how to act. The use of exosomes is becoming incredibly popular in regenerative medicine because they can help influence cell behavior according to the messages being sent. Exosomes seem to be the most potent and effective when harvested from stem cells. With the effects of this new treatment being carefully studied in the context of hair growth and restoration, our board-certified team, Drs. Anil Shah and Sameea Chughtai, are excited to offer this option to patients in Chicago.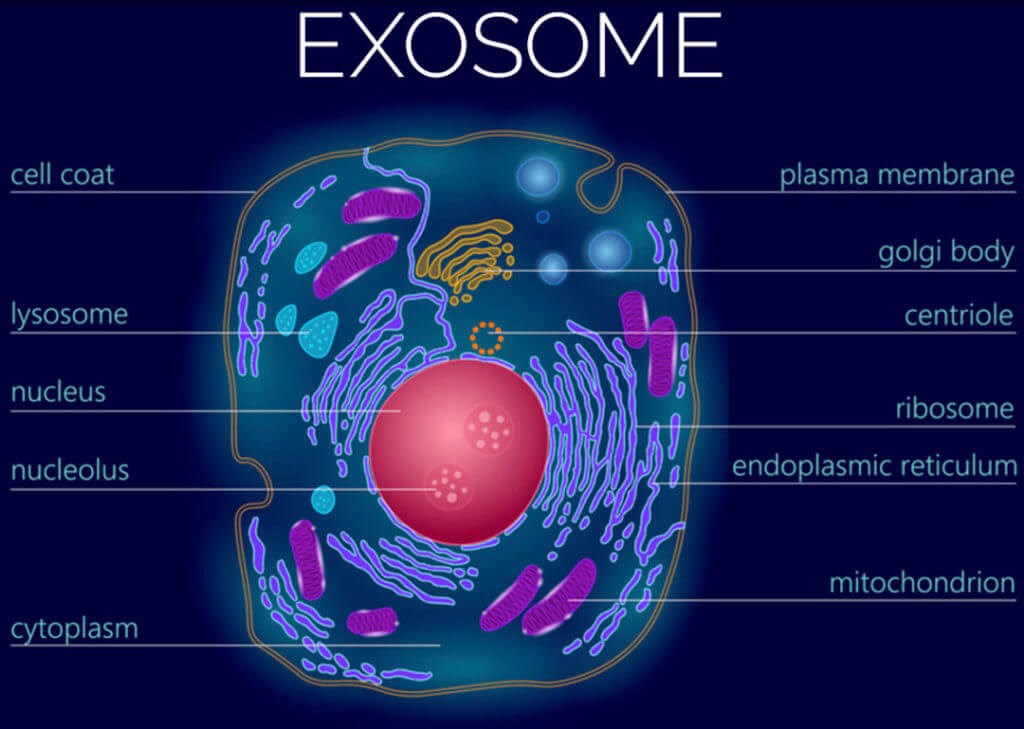 Diagram of an Exosome cell
If you're experiencing hair loss, thinning, or balding, or if you have had a hair restoration treatment in the past and are now noticing miniaturization in the previously treated hair, then you could be a candidate for exosomes therapy. Exosomes therapy is similar to PRP treatments in that it encourages follicle growth and strengthening, but exosomes therapy may be more beneficial for patients who prefer not to have their blood drawn or who have had PRP therapy in the past. To determine whether you're a candidate for this treatment, schedule a private consultation with one of our doctors who will assess your scalp, ask about your medical past and family history, and figure out the underlying cause of your hair loss.
Exosomes therapy is a minimally invasive treatment that we perform at our Chicago office. The length of the procedure will depend on the size of the affected area, but it shouldn't take longer than a couple of hours. During your session, we'll carefully inject exosomes into your scalp via a fine needle. We may apply a local anesthetic to the treatment area to minimize any pain and ensure your comfort throughout the procedure. Once complete, you may notice some redness around the treatment areas, but this should go away after a couple of days. Patients may return to their typical schedules following their exosomes therapy.
RESULTS AFTER EXOSOMES THERAPY
Since this technique is fairly new in hair restoration and cosmetic settings, final outcomes after exosomes therapy are still being monitored. So far, the treatment is used to facilitate hair growth and attempt to reverse the miniaturization of dormant hair in patients with hair loss or in those who have had hair restoration procedures in the past. To check your progress post-treatment, we may ask you to come in for a follow-up appointment so Dr. Shah or Chughtai can assess your scalp and determine whether the exosomes have had any effect.
INNOVATIVE TREATMENTS FOR YOUR SCALP
Aesthetic Scalp in Chicago, IL is bridging the gap between new medical innovations and the cosmetic industry by implementing advanced techniques at our premier offices. Double board-certified facial plastic surgeon Dr. Anil Shah and board-certified physician Dr. Sameea Chughtai are pleased to offer exosomes therapy to patients either as an individual service or alongside another hair restoration procedure. Get in touch with our office to learn about the benefits of exosomes therapy and how it can help your hair growth.
Related Procedures
Related Post