While many people know that men are more likely to experience hair loss than women, some may not know that one's ethnicity can also play a crucial role in the quality and quantity of your hair as you age. Specialists tend to classify hair into three categories: African hair, Asian hair, and Caucasian hair. However, even among these distinctions, there are further differences in how people of similar ethnic backgrounds experience hair loss. For example, people of Indian heritage have been shown to experience hair thinning or balding more frequently than those descended from other Asian cultures.
At Aesthetic Scalp in Chicago, our board-certified doctors take a personalized approach to discover the underlying cause of your hair loss. We also take your ethnic background into consideration when crafting a unique treatment plan to help restore the fullness of your hair. If you're of Asian descent and have noticed signs of hair loss, schedule a private consultation with Dr. Anil Shah or Dr. Sameea Chughtai at your earliest convenience.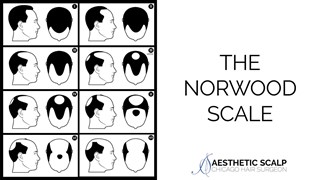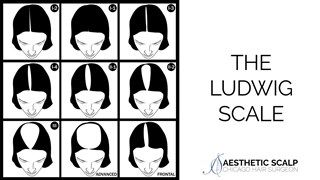 Among the African, Asian, and Caucasian hair types, Asian hair is known to be the thickest and most resilient of the three. Still, this doesn't mean that those of Asian heritage do not experience hair loss; in fact, Asian women are more likely to experience thinning of the hair than Caucasian women. There are many issues that can lead to thinning or bald patches, including androgenic alopecia (hereditary-pattern hair loss), traction alopecia, alopecia areata, certain medications, illness, dietary changes, hormonal imbalance, stress, and more. Depending on your gender and the cause of your hair loss, some signs you could notice include:
Thinning near the hairline
Balding at the crown, or the back of the head
A receding hairline
Patches of thinning hair throughout the scalp
Individual bald patches
Thinning near the temples
Recent studies have shown that smoking and tobacco use can also contribute to hair loss, especially among Asian men.
DIAGNOSIS OF ASIAN HAIR LOSS
Diagnosing hair loss in patients of Asian descent will require a private consultation with one of our doctors. At this appointment, we will evaluate your areas of concern and ask you questions about your lifestyle, medical history, and family histories. There are a number of underlying issues that could be causing your hair loss, such as hereditary factors, traction alopecia, illness, stress, diet, or certain medications. Once we have assessed the condition of your scalp, we'll work to figure out what has lead to your hair loss and develop a personalized treatment plan.
WHAT ARE MY TREATMENT OPTIONS?
There are a number of treatment options available to people of various ethnic backgrounds, ages, and genders. To best determine your ideal solution for hair loss, you'll need to attend a consultation with one of our board-certified doctors. Highly trained hair specialists Drs. Anil Shah and Sameea Chughtai will assess the condition of your scalp and ask about your medical and family histories to better understand the potential reason for your hair loss.
Patients with mild hair thinning could benefit more from a nonsurgical, regenerative technique, such as PRP therapy, exosomes therapy, or low-level light therapy. However, those with more significant balding, such as missing patches or hairline recession, may be better candidates for a surgical hair restoration procedure with the ARTAS® Robotic Hair Transplant system. At Aesthetic Scalp, our team performs follicular unit extraction (FUE) with a nonsurgical treatment (such as PRP therapy) to encourage the newly repositioned hairs to grow stronger and thrive in their new environment.
Surgical hair transplant for patients of Asian descent is often considered one of the hardest conditions for a hair specialist to treat because the unique characteristics of the Asian scalp (such as the dark hair color and straight follicle shape) make it difficult to successfully receive natural-looking results. To ensure that our patients receive their best outcomes, our doctors use the finest hairs from the hairline and proper angling approaches to restore fullness.
RESTORATIVE SOLUTIONS TO SUIT YOUR UNIQUE BACKGROUND
Just like a person's gender plays a role in how they experience hair loss, their ethnic background can also be a contributing factor. While Asian women and men are thought to have the strongest hair type that is the most resistant to hair loss, balding and thinning can still occur for hereditary, environmental, or health reasons. If you'd like to learn more about the health of your scalp and discover your options to regain or maintain the look and thickness of your hair, contact a member of our team at Aesthetic Scalp in Chicago.
Related Procedures
Related Post