PRP Therapy Procedure - Dr. Anil Shah and Dr. Sameea Chughtai
What is PRP Therapy for Hair Loss?
Hair loss is a significant concern for many women and men, whether it's brought on by age, genetics, hormones, health conditions, or from certain styling practices or products. With recent advances in the field of hair restoration, researchers are developing new procedures to help fight hair loss. Platelet-rich plasma (PRP) is a premier nonsurgical remedy that has shown remarkable effectiveness in slowing, stopping, and reversing hair loss. PRP has produced promising outcomes in patients with alopecia areata and thinning eyebrows. Dr. Anil Shah and Dr. Sameea Chughtai of Aesthetic Scalp are two of a small number of hair restoration surgeons offering this revolutionary therapy in Chicago. By mixing a strong solution of growth factors and bioactive proteins, our board-certified doctors can strengthen your hair, resulting in thicker, longer, healthier locks. At our office, we often combine PRP therapy with follicular unit extraction (FUE) to encourage hair growth and increase the likelihood of success for your newly placed hair follicles.
Any man or woman experiencing hair loss could potentially be a good candidate for PRP hair therapy, depending on the severity of their condition. Typically, those with early-stage hair loss tend to yield the best results. PRP is best suited for those with androgenic alopecia, which is a genetically determined type of hair thinning that most often presents along the top of the head and around the temples. In women, this could appear as a broadening part or thinner patches spread throughout the scalp. Patients with areas of weak-quality hair growth with properly functioning hair follicles typically have the greatest results with PRP hair regrowth treatments.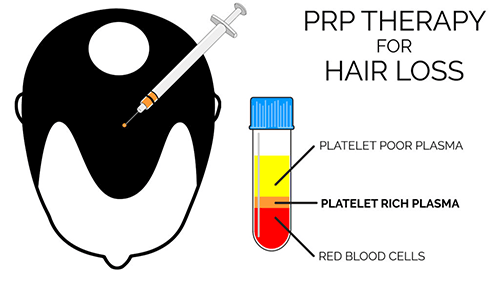 PRP Therapy Diagram
Our PRP for Hair Loss Technique
PRP Treatment usually takes about an hour in our Chicago office. We begin the procedure by drawing a small portion of your blood and placing it in a centrifuge, which spins the blood at high speed to remove the platelets from the rest of the blood components. After that, we administer a local anesthetic to your scalp and introduce the concentrated platelet-rich plasma to parts of your head that have thinning hair. Finally, we perform microneedling on the scalp to create micro-injuries in the skin, which triggers the PRP and permits it to seep deep into the skin.
As a minimally invasive procedure with almost no limitations or constraints, there is virtually no downtime needed following PRP therapy. Patients may develop some discoloration, minor swelling, or mild discomfort in the treated areas, but these side effects will go away after a couple of days. While outcomes differ for every patient, you will likely see your fullest outcomes approximately 4 – 6 months after the initial session, and this will continue to improve for up to a year following treatment. As PRP isn't a permanent option for hair loss, we highly recommend follow-up sessions every year or so, as results can last for up to 18 months. It's essential to note that PRP does not develop new hair follicles in locations where you're already bald; instead, it helps reverse the miniaturization of existing hair follicles so they will create healthier, thicker, longer hair fibers.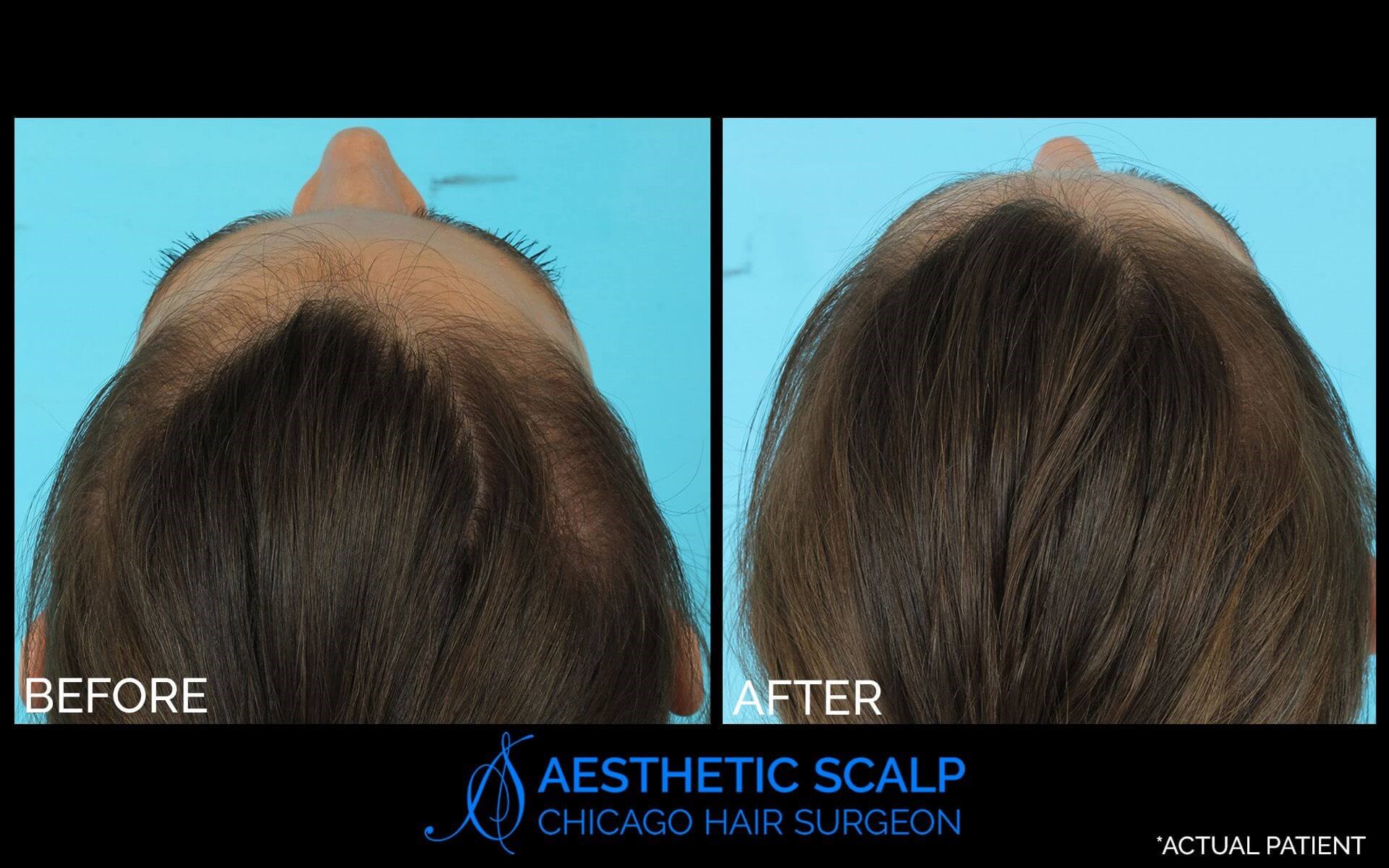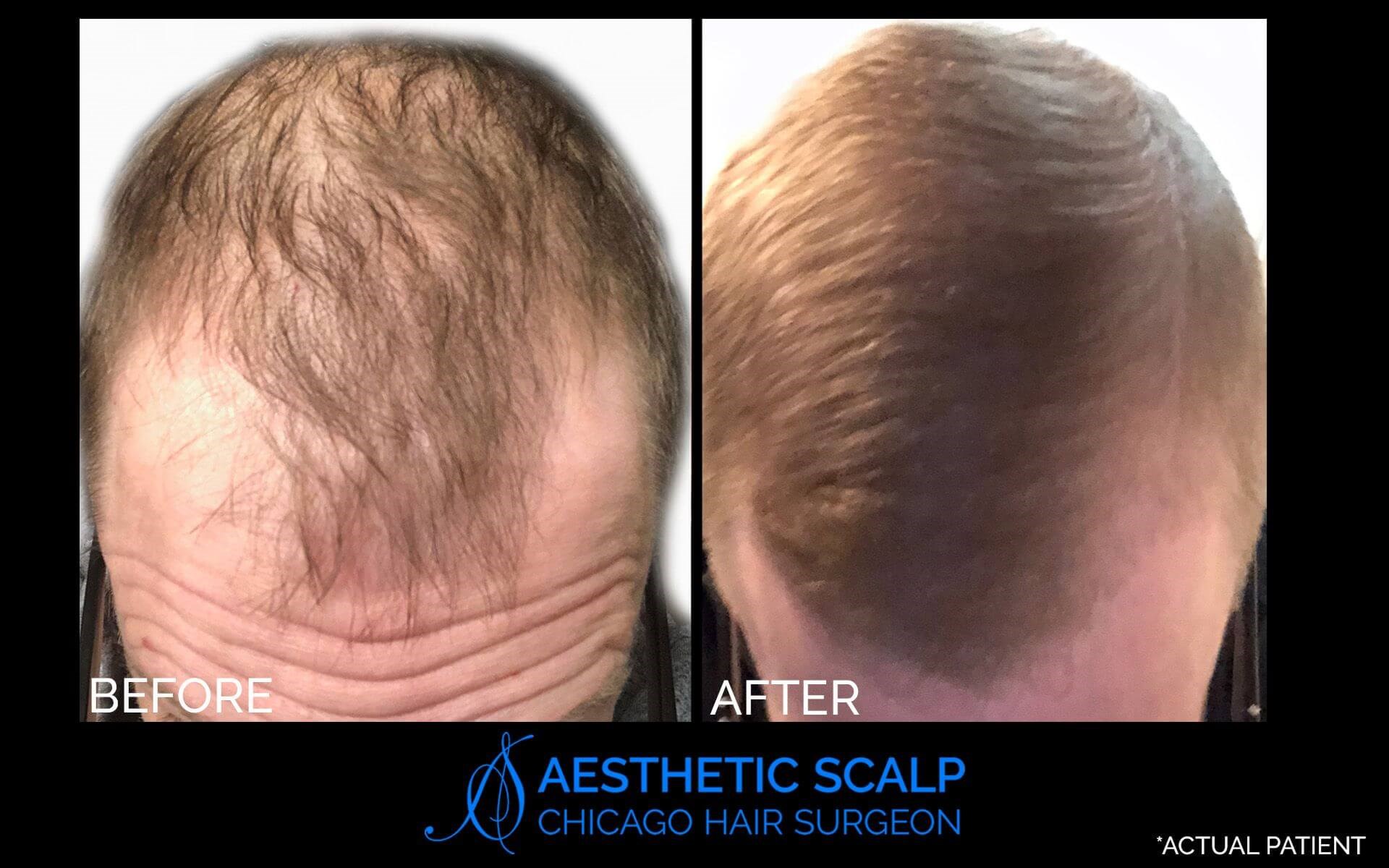 PRP therapy is a scientifically-backed choice for those struggling to find hair loss solutions. At Aesthetic Scalp, we strive to provide proven techniques to efficiently treat thinning hair. PRP therapy also pairs well with surgical hair restoration to encourage stronger, thicker hair growth. To find out more about PRP treatments and the benefits that come with it, contact our Chicago office at your earliest convenience. Drs. Shah and Chughtai are always eager to provide patients with valuable information regarding our revolutionary hair loss solutions.
Related Procedures
Related Posts